Department of Transportation Regulations for Swing Style Barrier Gates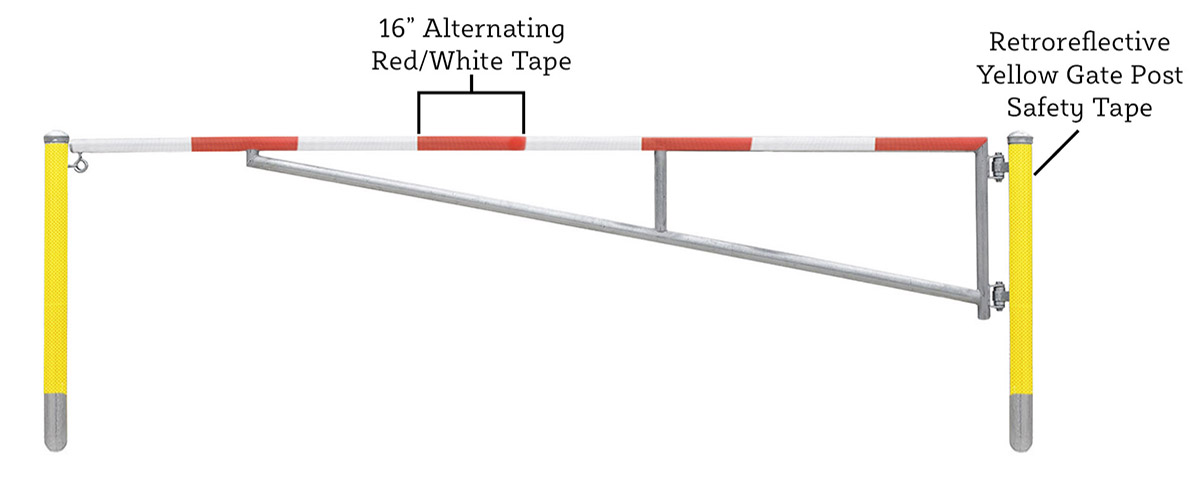 While swinging barrier gates are the best option where in-person security is limited, and some deterrent is needed to regulate traffic flow, if following the Department of Transportation guidelines, some standards need to be followed.
The Federal Highway Administration (FHWA) is responsible for implementing a specific manual, the Uniform Traffic Control Devices (MUTCD), to monitor safety precautions.
To help swing gates meet this safety standard, it's essential to listen to all the requirements set by the FHWA before placing a gate in a toll plaza or parking facility.
Basic Standards for Stripes on Gates
According to Section 8C.04, Paragraph 05 of the MUTCD, gate arms must be retro-reflectorized on both sides. Along with this, gates should have vertical stripes in red and white at 16-inch intervals when measured horizontally. If you own a swing gate that does not follow these requirements, safety tape kits are available to ensure your gate is visible and safe.
Deviations from The Basic Standards
Some variations of the rules set by the MUTCD under exceptional cases exist. One such rule is that if a swing gate is only used on a one-way roadway or ramp, the retroflection does not need to be present on the side of the gate that is not facing incoming traffic.
Another exception is when gate arms block ramps in reversible lanes or redirect traffic. The red and white stripes can be set so that the stripes slope down at about a 45-degree angle towards the gate arm where traffic passes. If you are still trying to decide what regulations to follow with your own swing gate, consult the MUTCD for full specifications when installing a swing gate.
Swing Gates Used Near Railroad Tracks
The MUTCD has fundamental rules for swing gates used at LRT and pedestrian crossings that may alter whether a gate opens outward or inward. In these instances, swing gates should open outward and return to a closed position.
Swing Gate Barrier Options
Swing Gates range from 10 to 40 feet and can have single or double gates. All swing gates featured are made in the USA with durable galvanized materials. One of the benefits of swing gates is the low maintenance after installing them. Since swing gates are manual, they do not require complicated control boards or regular reprogramming. While the MUTCD does not specify how large a swing gate should be, it does state that swing gates should "extend across the approaching lane or lanes of traffic to block motor vehicles or pedestrian travel effectively."
If you need further help with FHWA rules or regulations, read the full MUTCD manual. However, if you are ready to purchase a swing gate now, contact our knowledgeable sales representatives on all barrier gates.
MUTCD Manual
Contact Us
*Please consult the full manual set by the FHWA before installing a swing gate.