Manually Operated Rising Barrier Gate Arm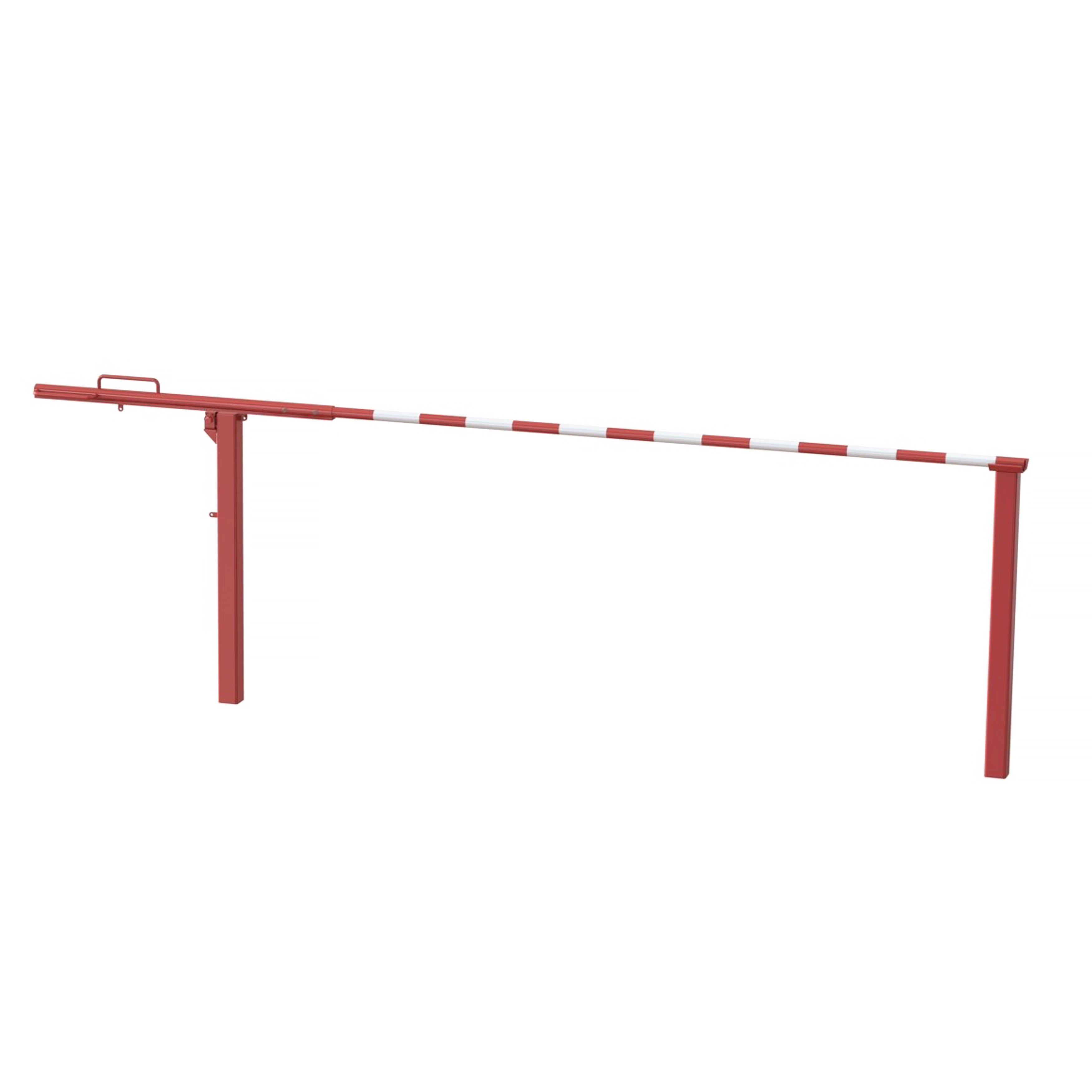 Depending on the space available in a parking lot, hospital entrance, or industrial complex, a manual swing gate will not fit in the intended space. For these purposes, a manual vertical pivot lift barrier gate answers all your problems. These gates open up instead of out, giving areas with limited space additional security access.
How Does A Rising Barrier Gate Arm Work?
These gates have a counterbalance where once the aluminum arm weight is transferred from the horizontal to the vertical position, it will stay in place and not move. Closed and open position lock brackets secure the aluminum arm to the posts. Also, if you choose, the arm can be padlocked up or down.
What Safety Features Does The Vertical Pivot Lift Barrier Gate Have?
Some important safety features include reflective stripes for night-time visibility. These stripes are white on the red barrier gate. Also, these lift gates are maintenance-free, meaning that you won't need to worry about your gate ever malfunctioning or complicated control board setup.
Will These Pivot Gates Last A Long Time?
Thanks to the durable, lightweight aluminum arm, these pivot gates will last many years. Now, many people have the presumption that aluminum is short-lasting. This is definitely false! Aluminum has a high strength-to-weight ratio and is naturally immune to corrosion. In some cases, aluminum may be the better option compared to steel.
What Is A Receiving Post For An Aluminum Barrier Gate Arm?
Most of the time, the receiving post is not included when purchasing a vertical barrier gate. This post goes at the end of a barrier arm and helps stabilize the aluminum arm when in the closed position. Receiving posts are recommended for units over 15 feet, as these more extended units need additional stabilization.
A barrier receiver post also helps prevent sagging associated with vertical pivot gates. And the best part is that this barrier arm receiver post is painted the same red as the rest of the gate, ensuring cohesion with how your entire setup looks. You can choose from either an in-ground or a surface-mounted barrier receiver post.
Is There A Difference Between In-Ground And A Surface-Mounted Gate?
For In-ground rising barrier gate arms, excavation is required to place the post under the ground. This can usually be accomplished by setting the post with cement or concrete. However, depending on the manufacturer, there may be other instructions for proper installation. On the other hand, surface-mounted pivot gates require 3/8" lag bolts to set the post in place. A surface-mount flange can be used with this surface-mounted gate that takes four 1/2" bolts. This might be a better setup depending on the surface you plan to install your gate on. The great part about these gates is that they are the exact price depending on the length. The only difference is that the 30-foot gate is only available as an in-ground installation for further stability. But, if you require a gate smaller than this, you can pick from either a 12,16, or 20-foot pivot gate.
---
Are you interested in learning more about our vertical pivot lift barrier gates? Look at our entire inventory below: