Parking Lot Entrance Traffic Spikes
---
Access Control: Traffic Spikes
Traffic spike systems are a method of access control used worldwide to help restrict vehicular access to certain areas of facilities or properties. Tiger Teeth traffic spike systems make an effective, low-cost method of restricting access to parking lots and parking garages. Traffic spike systems allow vehicles to pass in one direction safely while preventing any traffic from accessing the area in the opposite direction. When a vehicle passes over the spike strip in the correct direction, the tires safely roll over the smooth side of the spikes, while if a vehicle passes over the unit in the restricted direction, the teeth will puncture the tire and immobilize the vehicle.
---
Tiger Teeth Traffic Spike Parking Lot Access Control Systems
There are two types of traffic spike strips; standard manual spike strips and complete motorized traffic control systems. A motorized traffic control system includes a spike strip, barrier arm, and a wide range of optional accessories (keypads, card readers, intercoms, telephone devices, CCTV, cameras, loops, and more). Both types are available in a surface-mounted option or in-ground units. Users can install surface-mounted systems quickly to the roadway surface, and the inground units are installed to be flush with the roadway.
Common Applications:
Convention Centers
Car Parks, Corporate Parking Facilities
National Monuments and State Parks
Hospitals, Military Bases, Government Buildings
Natural Gas, Petroleum Plants, Water and Power Plants
Gated Residential Communities, Apartment Complexes
Impound Lots, Highways, Toll Roads, Prisons, Other Police Facilities
Tiger Teeth Safety Requirements
Driving more than 5 mph over the traffic spike system can cause damage to tires or vehicles. And when crossing over the traffic spikes, vehicle tires must drive parallel across the teeth to ensure the proper function of the spikes. In order to extend the longevity of the spike strips and for the warranty to be upheld, proper installation and use of visible warning signs is required.
---
Types Of Traffic Spikes By Installation & Power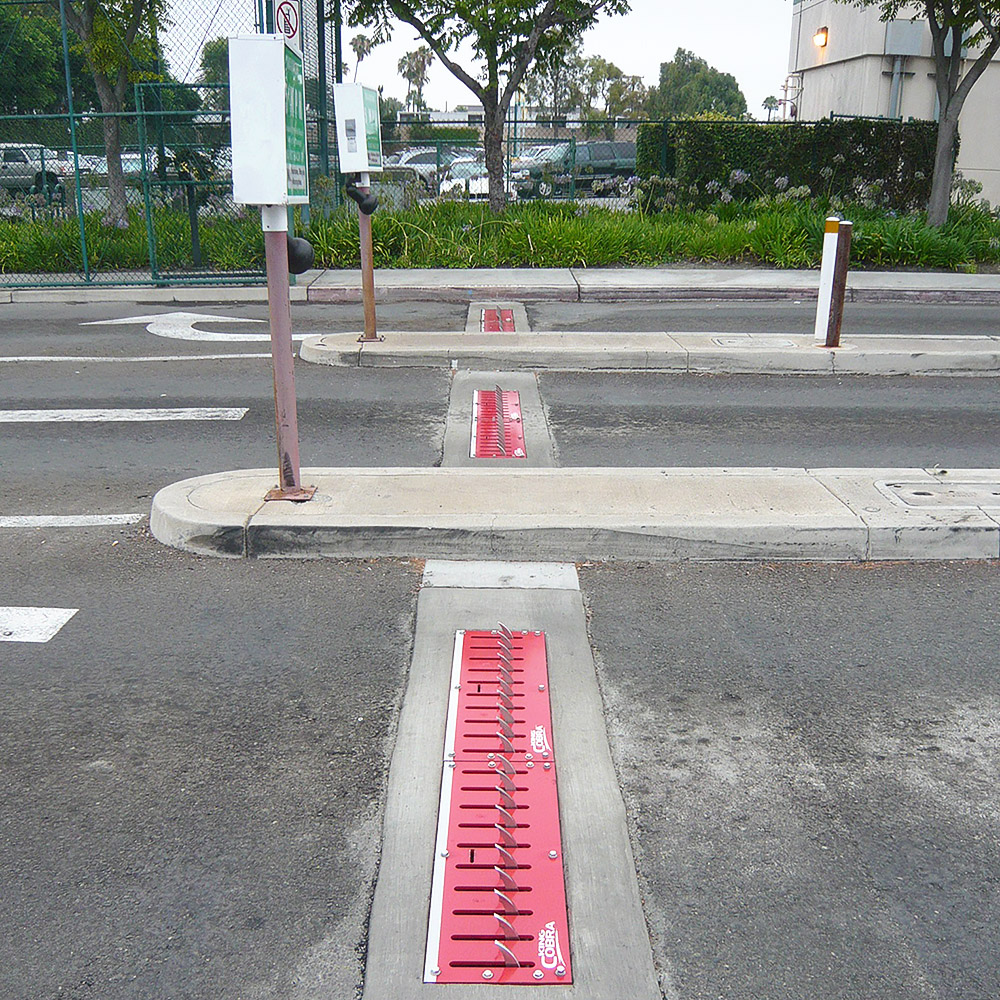 In-Ground Traffic Spikes sit level with the surface, keeping a low profile while also ensuring safety and protection of a secure area. We offer spike sections ranging from 3' to 12' feet in galvanized, painted, and powder-coated finishes in order to provide the perfect product to fit the needs of your application. Additionally, our collection includes end bevels to put the right finishing touch on a spike strip system.
Surface Mount Traffic Spikes sit atop the ground, forming a highly visible means of controlling traffic flow into and out of an area. With both penetrating and non-penetrating teeth models available in sizes ranging from 3' to 12', our diverse collection has not only traffic spike sections for a wide range of applications, but also end bevels to finish off a row of spike strips across a driveway or other surface.
Motorized Traffic Control Systems are flush mount installed barrier gates and traffic spike combinations that work as a solution to keep vehicles moving quickly and securely. It incorporates a fully integrated operator, barrier, and spike designed and manufactured using only the highest standards, ensuring that each part will work together to give you the most durable, synchronized traffic control system possible. This motorized traffic control system's flush mount installation style is ideal for access areas where low ground clearance vehicles often pass through. It is installed by mounting into the pavement and then pouring the needed amount of concrete around the spike extensions. Our motorized traffic control systems will prevent unauthorized entry or exit attempts by providing an exceptionally sturdy barrier, and the spike system strictly enforces one-way traffic.