US DOT Reflective Tape Requirements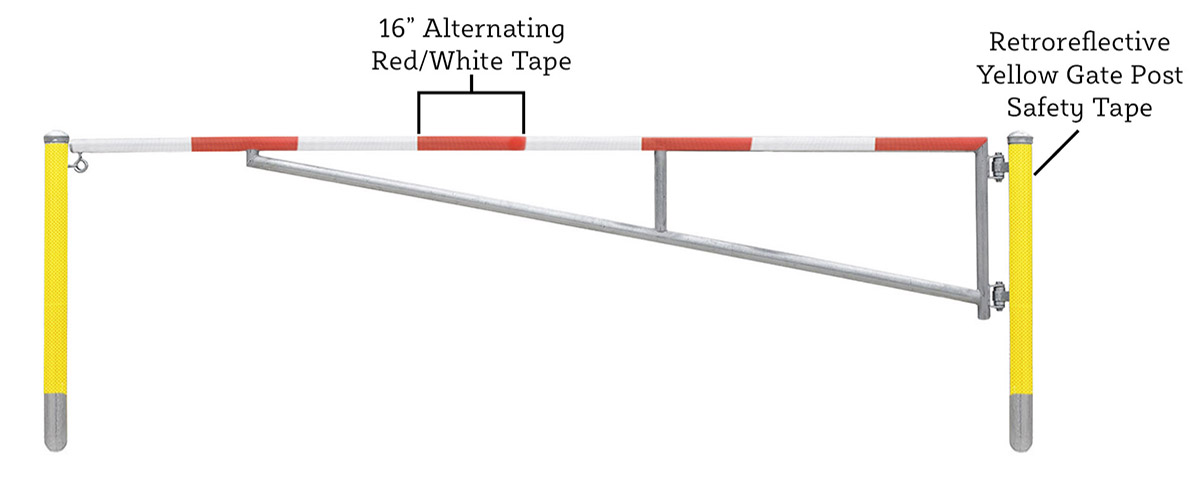 The Manual on Uniform Traffic Control Devices is a standard for all traffic control devices on U.S. roads and highways. States must adopt this standard, and non-compliance can result in the loss of federal-aid funds and increased liability. The MUTCD came about in the first half of the 20th century when there was often very little signage for drivers, and if there was signage, they were different in every state. The most recent edition of the MUTCD is from 2009, with a revision in 2022.
Safety Tape Features
Increases Safety In And Around Gate
Makes Gate Components More Visible In Low-Light Conditions
Designed For Outdoor Use For Any Type Of Gate
Alternating Red And White Color Pattern
MUTCD Compliant 2009
UV-Stabilized For Long Lasting Gate Safety
In the 2009 MUTCD section 8C.04 paragraph 5 states that "Gate arms shall be fully retroreflectorized on both sides and shall have vertical stripes alternately red and white at 16-inch intervals measured horizontally". Our gate safety tape will comply with these standards by having not only the red and white horizontal stripes 16" apart, but also yellow reflective strips for each side of the gate. This gives the gate the best visibility and increases safety in even the worst of weather conditions.
Adding visibility to your gate not only adds safety for people but also lessens the chance of someone accidentally hitting the gate. This will reduce operating costs over the years. If you have any questions or would like to place an order, contact one of our helpful sales representatives.
Contact Us