Traffic Spike Systems
Traffic spike systems are a method of access control used across the world to help restrict vehicular access to certain areas of facilities or properties. Traffic spike systems are built to allow vehicles to pass in one direction safely, while preventing any traffic from accessing the area in the opposite direction, providing an incredibly effective and low cost method of access control. When a vehicle passes over the spike strip in the correct direction the tires safely roll over the smooth side of the spikes, while if a vehicle passes over the unit in the restricted direction the teeth will puncture the tire and immobilize the vehicle.
Spike strips are known around the world by many different names, including tiger teeth, sabre teeth, road blockers, road sharks, tire rippers, alligator teeth, tire cutters, tire disablers and many others. All of the spike systems that Tiger Teeth sells are built right here in the United States, providing many jobs to hard working Americans.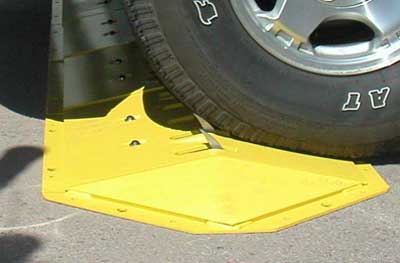 There are both standard manual spike strips, as well as complete motorized traffic control systems which include a spike strip, barrier arm, and a wide range of optional accessories (such as keypads, card readers, intercoms, telephone devices, CCTV, cameras, loops and more). Both types of spike strips are available in either surface mounted systems that can quickly be installed on the roadways surface, or there are in-ground units whose installations are flush with the roadway.
Questions about our traffic spike systems? Call our friendly representatives toll free at (800) 878-7829 and we would be more than happy to assist you.